Title: The Bookshop Hotel
Author: A.K. Klemm
Published: September 23, 2013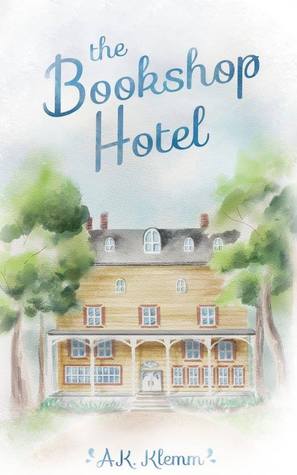 After returning to her hometown of Lily Hollow, AJ Rhys sets to fulfilling her childhood dream of restoring the old hotel on Aspen Court. With nothing but the legacy of her great grandfather and the help of two dedicated strangers, AJ begins transforming the once grand hotel into her ideal bookshop and refuge. Only after the renovations are in full swing does it become apparent that the hotel is having an effect on the town and everyone in it. The memory of a past that still haunts both AJ and Lily Hollow finally begins to release its grip as the Bookshop Hotel becomes the tie that binds its patrons together. A story of family, tragedy, forgiveness and the power of books, The Bookshop Hotel is an intriguing introduction to the residents of a small town where the past is never far away and secrets remain just below the surface.
3 out of 5 Stars.
Received from author in exchange for an honest review..
AJ always dreamed of turning the hotel into a book shop, and when she returns to Lily Hollow, that is exactly what she does. After the death of her husband and her grandfather, who left the hotel to her, she starts renovations. She has the opportunity to turn the hotel into a hotel and a book shop, which was always her dream.
AJ hires Matthew as her assistant and begins to fall for him. After being broken by her husbands death, she doesn't realize, at first, that she is falling for Matthew. But with the help of her newest employee, she realizes just what she wants in her life.
This isn't a book I would normally read, but I am glad I had the opportunity to read it and feel what the characters were feeling. This isn't just a story about a bookshop inside a hotel, it's a story about how life can change even after something traumatizing can happen. It's a story about returning to your roots and facing the people from your past.
This book was wonderful, and I recommend it for anyone. There is no age restriction on this one and it's a short and easy read with a lot of life lessons.